Stallion: Cactus Bars McCue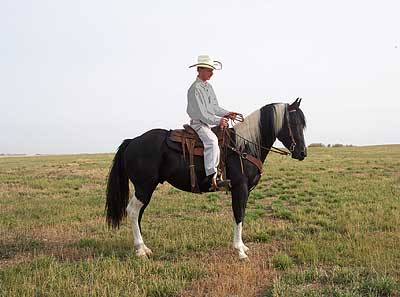 CACTUS BARS MCCUE
APHA 00362454
1996
Homozygous BLACK

Tobiano Stallion

15 - 1 1/2 HH
1300+ lbs.
From Iowa State, U.S.A.
Stud Fee $500.00 LFG plus mare care
In 2002, I competed with my stallion at our 1st APHA district competition near Saskatoon. This was our first effort as beginners. We won 2nd in Amateur Halter Stallions and Reserve Grand Champion Stallion. Ribbons were won in Western Pleasure and Western Horsemanship.
In 2003, I used Cactus Bars McCue at Lakeland College arena, Vermilion, Alberta in performance events:
Ranch Club
Working Cowhorse
Reining
Roping and cutting
Team Roping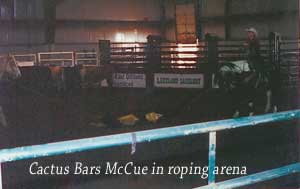 Ed had not ridden his Cactus since the spring of 2003. They decided they had better get out again. They entered in the fall APHA show at Saskatoon. They only rode & practiced a small part of 2 days just 1 month before the show. That was the only riding this stallion had in the last 6.5 years!! Then on show day, October 3rd & 4th, 2009 they excelled quite well. They placed 3rd in Western Pleasure, 2nd in barrel racing & 3rd in pole bending. The fans & judges were treated to a good show. Many people marvelled as this stallion handled so well in the show ring and acted so nicely among the many horses as they waited their turn to compete.
The stallion has an excellent disposition, conformation and bone. He passes his good qualities on to his offspring. They have been used for working cattle at feedlots, pastures and ranches and for competition purposes.
My stallion's APHA, AQHA and T.B. breeding - see pedigree below. Due to space limitations,performance briefly given for 1st Three generations.
PRINT FRIENDLY VERSION - EXTENDED PEDIGREE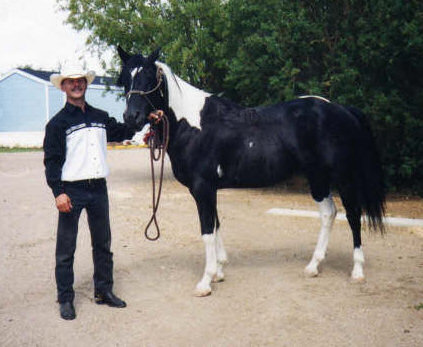 Extended Pedigree for Cactus Bars McCue
1996 BLACK TOBIANO Stallion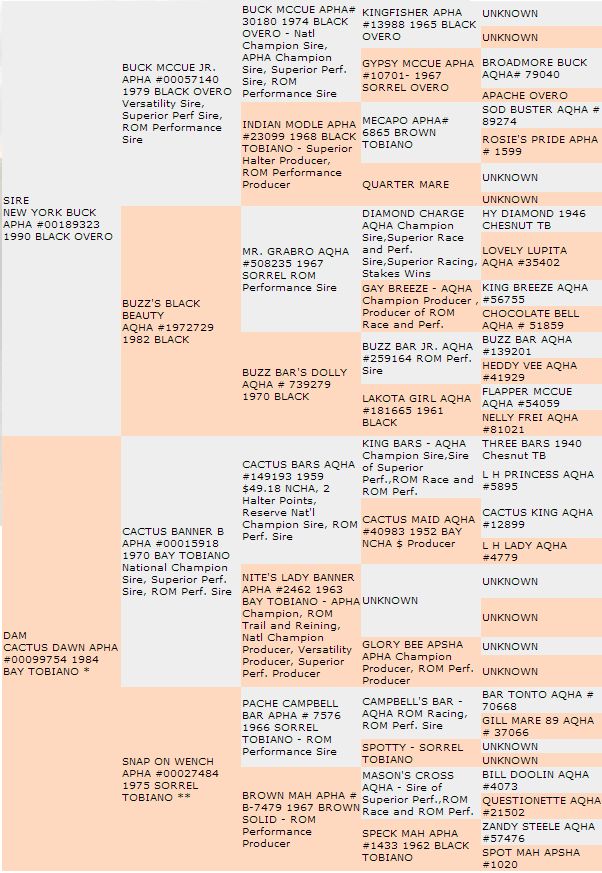 *Cactus Dawn : Her half sister is Cactus Christy; (sire is Cactus Banner B). A 1977 mare with points: Reining = 74 (ROM, Superior, 2X's National Champion, 2X's World Champion), Cutting = 20 (ROM), Western Pleasure= 14 (ROM) and Working Cowhorse = 2.
**Snap On Wench: Her full brother (Brown Mah by Pache Campbell Bar) is Red Jasper, a 1977 gelding with points: Heading = 43 (ROM), Heeling = 32 (ROM) and Steer Stopping = 12 (ROM)